Traffic Carmarthen
FULL SCREEN
UPDATED: 02:11
×
×
Current traffic in Carmarthen

There are no current incidents in this location.
Traffic in Nearby Villages
Let's Get Social
---
Live Email Traffic Alerts
Get live email alerts whenever there is a traffic incident or roadworks on the roads you travel that may cause congestion or jams.
Sign up for free alerts
---
LEGAL NOTICE
Please remember that it is against the law to use your mobile phone without a hands-free kit whilst driving. If you're caught by the police driving whilst using a hand-held phone you'll get an automatic fixed penalty notice, 6 points on your licence and a fine of £200. A court could also disqualify you from driving.
The tide on Tuesday morning is set to occur at approximately 8:00 am local time at Carmarthen Bay Holiday Park.
This tide will coincide with tidal surge and moderate to large offshore waves.
Winds are forecast to be force 7 from a south-south-west direction.
Water levels are forecast to cause water to overtop defences on the most exposed parts of the park.
Although the conditions only indicate a marginal breach of the flood warning thresholds, chalets closest to these defences could be affected.
Conditions near the exposed defences are likely to be dangerous.
Conditions on Tuesday evening are expected to improve, though wave overtopping is still possible.
Unless there is a significant change in the forecast, this flood warning will be removed on Tuesday afternoon and the flood alert will remain in force for Tuesday evening and possibly Wednesday morning.
8.53 miles from Carmarthen.
Over the next few days high tides are expected to coincide with tidal surge and moderate to large offshore waves.
The greatest impacts are expected during the high tides on Tuesday 17th April, set to occur at approximately 8:00 AM and 8:15 PM at Milford Haven, local time.
The tide on Tuesday morning is expected to give the greatest impacts.
Care should be taken at exposed locations around the coast such as sea front areas, roads adjacent to the sea and promenades.
Wave overtopping is expected at some locations; this can be dangerous and may contain debris.
The wind is forecast to be approximately force 7 from a south- south- westerly direction.
Offshore waves are expected to be moderate to large.
7.15 miles from Carmarthen.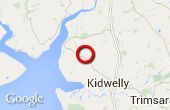 Except where otherwise noted, content and photographs on this site are licensed under a Creative Commons Attribution 3.0 License.
Owned, operated and copyright CliqTo Ltd 2018. Registered company number 7575287.