No Delay Hotspots UK-Wide
MAP
LIST
FULL SCREEN
PAUSE TIMER
LIVE CAMS
LOAD TRAFFIC HERE
Old Bond Street All Directions - A4 Piccadilly (Eastbound)
×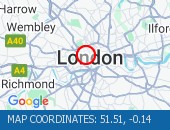 A4 Piccadilly (Eastbound) at t
A4 Piccadilly (Eastbound) at the junction of Old Bond Street - lane restriction due in to facilitate crane operation. Currently no visible restrictions. Traffic flow is light with no delays.
Location: Old Bond Street, 0.69m of
Covent Garden
,
Greater London
Street View
Old Bond Street camera (Streetview):
Regional Weather
Don't get stuck in traffic when you're out and about. Use our SMS service to get the latest traffic conditions instantly to your mobile phone.
Current no delays

There are no current incidents in this location.

Except where otherwise noted, content and photographs on this site are licensed under a Creative Commons Attribution 3.0 License.
Owned, operated and copyright CliqTo Ltd 2023 and Chris Haycock. Registered company number 7575287.