Traffic Llanelli
TODAY
56°
Cloudy With Light Rain
WIND: 34kts, W
MON
51°
Cloudy With Light Rain
WIND: 29kts, WSW
TUE
52°
Light Rain Showers
WIND: 27kts, WNW
WED
49°
Light Rain Showers
WIND: 20kts, W
THU
54°
Light Rain Showers
WIND: 26kts, W
Current traffic in Llanelli
BOTH DIRECTIONSCLEARED @ 14:30Description : M4 : Now clear : Both directions : J41 (Port Talbot) Pentyla to J42 (Swansea) Earlswood , Incident Time : 29/03/2015 14:23 , End Date : 29/03/2015 14:28 , Severity : Slight
16.69 miles from Llanelli.
CLEARED @ 14:30
…
Your Comments
Traffic in Nearby Villages
Let's Get Social
---
Live Email Alerts
---
LEGAL NOTICE
Please remember that it is against the law to use your mobile phone without a hands-free kit whilst driving. If you're caught by the police driving whilst using a hand-held phone you'll get an automatic fixed penalty notice, 3 points on your licence and a fine of £100. A court could also disqualify you from driving.
CLEARED @ 14:30
Description : M4 : Now clear : Both directions : J41 (Port Talbot) Pentyla to J42 (Swansea) Earlswood , Incident Time : 29/03/2015 14:23 , End Date : 29/03/2015 14:28 , Severity : Slight
16.69 miles from Llanelli.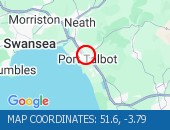 Except where otherwise noted, content and photographs on this site are licensed under a Creative Commons Attribution 3.0 License.
Owned, operated and copyright CliqTo Ltd 2015. Registered company number 7575287.