M2 Traffic
Traffic incidents on the M2

There are no current incidents in this location.
M2 Overview
The M2 is unique in that it's the only motorway in the country that does not meet any other at a junction. Running a total of 25.7 miles and built in 1963, it connects Shorne to Faversham. Curiously, it was originally to be called the A2(M), but the Ministry of Transport adopted the name M2 after the Daily Telegraph reported it as the M2.
66

12
am

66

1
am

65

2
am

65

3
am

66

4
am

68

5
am

67

6
am

66

7
am

65

8
am

65

9
am

65

10
am

65

11
am

66

12
pm

66

1
pm

66

2
pm

66

3
pm

66

4
pm

65

5
pm

67

6
pm

69

7
pm

69

8
pm

68

9
pm

67

10
pm

67

11
pm
Average speeds are from the Highways Agency network journey time and traffic flow data May 2014.
After the UK government permitted the construction of motorways across the country in the late 1950's, one of the first motorways to be built was the M2. This motorway was built and became operational in the 1960's. It runs about 41km (25.7 miles) throughout Kent, England and serves as an alternate route of A2. Specifically, the M2 passes through the towns of Medway, Sittingbourne, and finally ending at Faversham.

The initial construction of M2 Highway occurred in 1963 particularly the Medway alternate route or the Junctions 2 through 5. The rest of the M2 was built in 1965 namely: Junctions 1-2 and Junctions 5-7. So, consequently, this motorway was opened to the public in three phases. Although, originally, the route was supposed to be extended up to London as well as Dover but the plan never materialized.

The M2 Motorway starts at the western part of Strood at Junction 1 using four lanes moving away from A2 going east from London. Then, the road moves down to Medway Valley parallel with High Speed 1 while crossing River Medway through the Medway Viaduct. After that, Junction 2 starts going through Channel rail Link, Nashenden Valley, Blue Bell Hill up to North Downs until it joins with Junction 3 located at Walderslade. Junction 3, which only comprise three lanes, includes running through Crossingfields, Westfield Sole, Lidsing, and then Bredhurst to meet Junction 4. At this point, the M2 only consists of two lanes and runs through Medway Service Station and over to Stockbury Viaduct to join Junction 5. Lastly, it goes along North Downs until before long it ends at Junction 7 located at Brenley Corner near Faversham.

Improvements, widening, and other amendments of the M2 Motorway were basically undertaken in 1990's since the road's operation. Examples of improvements that were made are the upgrade of two lanes into four lanes, new embankment, and a whole expanse of streetlights, among others. Currently, there are no available future plans for M2.
---

Please don't drink and drive - it's not worth the risk. Alcohol seriously affects your ability to drive safely. You can end up in court, jailed, and fined up to £5,000 plus a 12-month ban from driving and a criminal record.
M6

696 accidents

M1

665

M25

656

M4

534

M5

248
TODAY
55°
Cloudy With Heavy Rain
WIND: 15kts, NNW
MON
49°
Sunny
WIND: 8kts, N
TUE
49°
Cloudy With Light Rain
WIND: 11kts, ENE
WED
53°
Mist
WIND: 7kts, WNW
THU
52°
Sunny
WIND: 9kts, SW

Except where otherwise noted, content and photographs on this site are licensed under a Creative Commons Attribution 3.0 License.
Owned, operated and copyright CliqTo Ltd 2014. Registered company number 7575287.
Close this box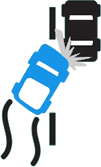 Traffic alerts direct to your inbox
Get customised traffic updates direct to your email inbox with our brand new free service.
Avoid the traffic jams and accidents by being informed by email immediately an incident has been reported:

Set up custom alerts