Live traffic news for the M4
M4 Traffic
M4 Eastbound - M4 : Eastbound : J38 Marg
×
M4 Eastbound - M4 eastbound between J23
×
M4 Eastbound - M4 : Now clear : Eastboun
×
M4 Westbound - Roadworks
×
M4 Eastbound - Roadworks
×
M4 Westbound - Roadworks
×
M4 Westbound - Roadworks
×
M4 Eastbound - Roadworks
×
M4 Eastbound - Roadworks
×
M4 Eastbound - M4 : Eastbound : J28 Tred
×
M4 Eastbound - Roadworks
×
M4 Eastbound - M4 : Eastbound : J33 Cape
×
M4 Westbound - Roadworks
×
M4 Westbound - Roadworks
×
M4 Eastbound - Roadworks
×
M4 Eastbound - Roadworks
×
M4 Westbound - Roadworks
×
M4 Westbound - Roadworks
×
M4 Eastbound - Roadworks
×
M4 Westbound - Roadworks
×
M4 Westbound - Roadworks
×
M4 Westbound - Roadworks
×
M4 Westbound - Roadworks
×
M4 Westbound - Roadworks
×
M4 Westbound - Roadworks
×
M4 Eastbound - Roadworks
×
M4 Eastbound - Roadworks
×
M4 Westbound - Roadworks
×
M4 Westbound - Roadworks
×
M4 Eastbound - Roadworks
×
M4 Eastbound - Roadworks
×
M4 Eastbound - Roadworks
×
M4 Westbound - Roadworks
×
M4 Eastbound - Resurfacing
×
M4 Overview
Connecting London to South Wales - a blessing for many, the M4 motorway also connects several major urban areas, including Reading, Swindon, Bristol, Newport (Wales), Cardiff and Swansea. Construction first began in 1961 on the motorway, famously spanning over the River Severn suspension bridge, a trip well worth taking for the view!
63

12
am

63

1
am

62

2
am

62

3
am

63

4
am

65

5
am

64

6
am

60

7
am

60

8
am

62

9
am

63

10
am

63

11
am

63

12
pm

63

1
pm

63

2
pm

63

3
pm

61

4
pm

59

5
pm

61

6
pm

65

7
pm

66

8
pm

65

9
pm

65

10
pm

65

11
pm
Average speeds are from the Highways Agency network journey time and traffic flow data May 2014.
The M4 is a motorway of contrasts; at both ends (both London and South Wales) there is an urban, industrial sense of the local area, but inbetween the motorway takes passengers through the lush green countryside of the M4 corridor, covering southern England, including Berkshire, Wiltshire and Gloucestershire. The M4 was originally called the London-South Wales Motorway (for obvious reasons).

It used to take motorists across the first suspension bridge spanning the River Severn, however the motorway was rerouted to use the Second Severn Crossing in order to speed up journey times.

Be aware of the usual traffic congestion hotspots, in particular the M4 stretch around Newport, which often suffers from heavy congestion, queues and delays to journeys.

A variable speed limit scheme is in operation between J24-J29 to try to reduce the flow of traffic between this 8-mile stretch of motorway.

In addition, the stretch of motorway at junctions 40 and 41 are also notorious blackspots, although work is underway to create the Port Talbot peripheral distributor road which should help reduce congestion.

Talks are undeway to consider the option of extending the M4 through to Carmarthen.

Be prepared for the toll bridge as the M4 crosses the River Severn - although charges are only applicable for motorists travelling Westbound only.
---

Please don't drink and drive - it's not worth the risk. Alcohol seriously affects your ability to drive safely. You can end up in court, jailed, and fined up to £5,000 plus a 12-month ban from driving and a criminal record.
M6

696 accidents

M1

665

M25

656

M4

534

M5

248

Except where otherwise noted, content and photographs on this site are licensed under a Creative Commons Attribution 3.0 License.
Owned, operated and copyright CliqTo Ltd 2014. Registered company number 7575287.
Close this box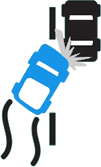 Traffic alerts direct to your inbox
Get customised traffic updates direct to your email inbox with our brand new free service.
Avoid the traffic jams and accidents by being informed by email immediately an incident has been reported:

Set up custom alerts