Live traffic news for the M3
M3 Traffic
M3 Westbound - Congestion
×
M3 Eastbound - Resurfacing
×
M3 Westbound - Roadworks
×
M3 Westbound - Roadworks
×
M3 Eastbound - Roadworks
×
M3 Westbound - Roadworks
×
M3 Eastbound - Roadworks
×
M3 Westbound - Roadworks
×
M3 Westbound - Roadworks
×
M3 Westbound - Roadworks
×
M3 Eastbound - Roadworks
×
M3 Westbound - Roadworks
×
M3 Eastbound - Roadworks
×
M3 Eastbound - Roadworks
×
M3 Eastbound - Roadworks
×
M3 Eastbound - Roadworks
×
M3 Eastbound - Roadworks
×
M3 Westbound - Roadworks
×
M3 Westbound - Roadworks
×
M3 Eastbound - Roadworks
×
M3 Eastbound - Roadworks
×
M3 Westbound - Roadworks
×
M3 Westbound - Roadworks
×
M3 Eastbound - Roadworks
×
M3 Eastbound - Roadworks
×
M3 Westbound - Roadworks
×
M3 Eastbound - Roadworks
×
M3 Eastbound - Roadworks
×
M3 Westbound - Roadworks
×
M3 Eastbound - Roadworks
×
M3 Westbound - Roadworks
×
M3 Westbound - Roadworks
×
M3 Westbound - Roadworks
×
M3 Westbound - Roadworks
×
M3 Westbound - Roadworks
×
M3 Westbound - Roadworks
×
M3 Westbound - Roadworks
×
M3 Westbound - Roadworks
×
M3 Eastbound - Roadworks
×
M3 Westbound - Roadworks
×
M3 Westbound - Roadworks
×
M3 Westbound - Roadworks
×
M3 Eastbound - Roadworks
×
M3 Eastbound - Roadworks
×
M3 Eastbound - Roadworks
×
M3 Eastbound - Roadworks
×
M3 Eastbound - Roadworks
×
M3 Westbound - Roadworks
×
M3 Westbound - Roadworks
×
M3 Westbound - Roadworks
×
M3 Westbound - Roadworks
×
M3 Eastbound - Roadworks
×
M3 Westbound - Roadworks
×
M3 Westbound - Roadworks
×
M3 Eastbound - Roadworks
×
M3 Eastbound - Roadworks
×
M3 Westbound - Roadworks
×
M3 Eastbound - Roadworks
×
M3 Eastbound - Roadworks
×
M3 Eastbound - Roadworks
×
M3 Eastbound - Roadworks
×
M3 Westbound - Roadworks
×
M3 Overview
Spanning a total distance of 59 miles, the M3 Motorway connects Sunbury on Thames (Surrey) to Southampton using a dual three-lane road. Completed in 1995 (after much local protest), the motorway was built to provide relief to the two single roads that carried the traffic to the central south coast from London, which were very congested.
68

12
am

67

1
am

67

2
am

68

3
am

68

4
am

70

5
am

68

6
am

65

7
am

65

8
am

66

9
am

66

10
am

65

11
am

65

12
pm

66

1
pm

66

2
pm

66

3
pm

65

4
pm

64

5
pm

67

6
pm

70

7
pm

71

8
pm

69

9
pm

69

10
pm

69

11
pm
Average speeds are from the Highways Agency network journey time and traffic flow data May 2014.
Spanning a distance of 59 miles in length, the M3 motorway begins at Sunbury on Thames, and ends at Southampton. Building commenced in 1968, and although it faced opposition by locals at Twyford Down, it was opened to public use for vehicles in 1995. Traffic conditions can be congested at peak times in certain areas, in particular around Chandler's Ford in Eastleigh, Hampshire. In fact, records show that this section of the motorway carried an average of around 130,000 vehicles per day in 2008, putting it rather close to the flow of the M25 at 140,000 vehicles.

Also watch out at the junction where the M3 meets the M25, where traffic levels can peak at busy times of the day.

The Government recently announced that a major 'Smart Motorway' scheme would start in August 2014, bringing the installation of CCTV and SPECS cameras between junctions 2-4a - costing in excess of £129m - as well as strengthening of the hard shoulder and further improvements to the entry/exit slip roads along the length of this stretch of road. The new technology will be able to monitor conditions, reduce journey times, and help reduce traffic congestion.
---

Please don't drink and drive - it's not worth the risk. Alcohol seriously affects your ability to drive safely. You can end up in court, jailed, and fined up to £5,000 plus a 12-month ban from driving and a criminal record.
M6

696 accidents

M1

665

M25

656

M4

534

M5

248

Except where otherwise noted, content and photographs on this site are licensed under a Creative Commons Attribution 3.0 License.
Owned, operated and copyright CliqTo Ltd 2014. Registered company number 7575287.
Close this box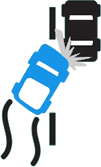 Traffic alerts direct to your inbox
Get customised traffic updates direct to your email inbox with our brand new free service.
Avoid the traffic jams and accidents by being informed by email immediately an incident has been reported:

Set up custom alerts