Live traffic news for the M5
M5 Traffic
M5 Northbound - Multiple Vehicle Accident
×
M5 Northbound - Congestion
×
M5 Southbound - Bridge or Barrier Repairs
×
M5 Northbound - Congestion
×
M5 Southbound - Congestion
×
M5 Northbound - Roadworks
×
M5 Southbound - Roadworks
×
M5 Northbound - Roadworks
×
M5 Southbound - Roadworks
×
M5 Northbound - Roadworks
×
M5 Northbound - Roadworks
×
M5 Southbound - Roadworks
×
M5 Northbound - Roadworks
×
M5 Northbound - Roadworks
×
M5 Southbound - Roadworks
×
M5 Northbound - Roadworks
×
M5 Northbound - Roadworks
×
M5 Southbound - Roadworks
×
M5 Northbound - Roadworks
×
M5 Southbound - Roadworks
×
M5 Southbound - Roadworks
×
M5 Northbound - Roadworks
×
M5 Northbound - Roadworks
×
M5 Northbound - Roadworks
×
M5 Southbound - Roadworks
×
M5 Southbound - Roadworks
×
M5 Northbound - Roadworks
×
M5 Northbound - Roadworks
×
M5 Southbound - Roadworks
×
M5 Westbound - Roadworks
×
M5 Southbound - Roadworks
×
M5 Northbound - Roadworks
×
M5 Southbound - Roadworks
×
M5 Northbound - Roadworks
×
M5 Southbound - Roadworks
×
M5 Northbound - Roadworks
×
M5 Southbound - Roadworks
×
M5 Northbound - Roadworks
×
M5 Southbound - Roadworks
×
M5 Southbound - Roadworks
×
M5 Northbound - Roadworks
×
M5 Southbound - Roadworks
×
M5 Northbound - Roadworks
×
M5 Northbound - Roadworks
×
M5 Southbound - Roadworks
×
M5 Northbound - Roadworks
×
M5 Southbound - Roadworks
×
M5 Northbound - Roadworks
×
M5 Southbound - Roadworks
×
M5 Northbound - Roadworks
×
M5 Northbound - Roadworks
×
M5 Southbound - Roadworks
×
M5 Northbound - Roadworks
×
M5 Southbound - Roadworks
×
M5 Northbound - Roadworks
×
M5 Southbound - Roadworks
×
M5 Southbound - Roadworks
×
M5 Southbound - Roadworks
×
M5 Northbound - Roadworks
×
M5 Northbound - Roadworks
×
M5 Southbound - Roadworks
×
M5 Northbound - Roadworks
×
M5 Northbound - Roadworks
×
M5 Overview
This 192-mile motorway runs from West Bromwich at the junction of the M6 (North West Birmingham) through Worcester, Cheltenham, Bristol, Taunton and others, where it ends at Exeter in Devon. A major route for holidaymakers to the South West of England, the motorway peak congestion is on Bank Holidays and the start/finish of school hols.
66

12
am

65

1
am

65

2
am

64

3
am

65

4
am

67

5
am

68

6
am

66

7
am

65

8
am

66

9
am

65

10
am

64

11
am

64

12
pm

64

1
pm

64

2
pm

64

3
pm

64

4
pm

64

5
pm

66

6
pm

68

7
pm

68

8
pm

67

9
pm

66

10
pm

66

11
pm
Average speeds are from the Highways Agency network journey time and traffic flow data May 2014.
The M5 is the only single-digit motorway in the UK that does not originate or terminate in London. Work commenced on the M5 motorway in 1962 (opening in 1977) in order to ease congestion on A roads and minor routes, which over the decades has seen a huge increase in traffic flow for those heading from the Midlands / North of England down to the South West of the country. The motorway runs a huge 163 miles in length, beginning at Junction 8 on the M6 bypassing Droitwich Spa, Worcester, Cheltenham, Gloucester, Bristol, Taunton and ending at Exeter.

Congestion and heavy traffic is commonplace during peak times, especially the start/end of school summer holidays, Friday rush hour and school/bank holidays, especially on the southern half of the motorway.

Out of these times, expect plenty of commercial traffic in the form of lorries and vans - the M5 is a primary route for commercial vehicles to/from Birmingham-Bristol and Midlands-South Wales ports.

The Bristol area continues to be problematic for motorists, especially around Avonmouth Bridge. Despite widening projects designed to ease the flow of traffic - especially on the steep hilly areas, the M5 motorway remains the only viable route for most journeys heading to the south west of England.
---

Please don't drink and drive - it's not worth the risk. Alcohol seriously affects your ability to drive safely. You can end up in court, jailed, and fined up to £5,000 plus a 12-month ban from driving and a criminal record.
M6

696 accidents

M1

665

M25

656

M4

534

M5

248

Except where otherwise noted, content and photographs on this site are licensed under a Creative Commons Attribution 3.0 License.
Owned, operated and copyright CliqTo Ltd 2014. Registered company number 7575287.
Close this box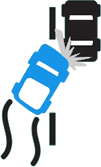 Traffic alerts direct to your inbox
Get customised traffic updates direct to your email inbox with our brand new free service.
Avoid the traffic jams and accidents by being informed by email immediately an incident has been reported:

Set up custom alerts