Live traffic news for the M6
M6 Traffic
M6 Southbound - Accident
×
M6 Southbound - Broken Down Vehicle
×
M6 Northbound - Broken Down Vehicle
×
M6 Southbound - Broken Down Vehicle
×
M6 Northbound - Congestion
×
M6 Southbound - Congestion
×
M6 Southbound - Congestion
×
M6 Northbound - Bridge or Barrier Repairs
×
M6 Northbound - Bridge or Barrier Repairs
×
M6 Northbound - Bridge or Barrier Repairs
×
M6 Northbound - Congestion
×
M6 Northbound - Congestion
×
M6 Southbound - Bridge or Barrier Repairs
×
M6 Southbound - Bridge or Barrier Repairs
×
M6 Northbound - Congestion
×
M6 N/a - Roadworks 2.47mi from Gre
×
M6 N/a - Roadworks 2.47mi from Gre
×
M6 Southbound - Roadworks
×
M6 Southbound - Roadworks
×
M6 Southbound - Roadworks
×
M6 Southbound - Roadworks
×
M6 Northbound - Roadworks
×
M6 Southbound - Roadworks
×
M6 Northbound - Roadworks
×
M6 Northbound - Roadworks
×
M6 Northbound - Roadworks
×
M6 Southbound - Roadworks
×
M6 Northbound - Roadworks
×
M6 Southbound - Roadworks
×
M6 Southbound - Roadworks
×
M6 Southbound - Roadworks
×
M6 Northbound - Roadworks
×
M6 Northbound - Roadworks
×
M6 Southbound - Roadworks
×
M6 Northbound - Roadworks
×
M6 Northbound - Roadworks
×
M6 Northbound - Roadworks
×
M6 Southbound - Roadworks
×
M6 Northbound - Roadworks
×
M6 Northbound - Roadworks
×
M6 Northbound - Roadworks
×
M6 Southbound - Roadworks
×
M6 Northbound - Roadworks
×
M6 Northbound - Roadworks
×
M6 Northbound - Roadworks
×
M6 Southbound - Roadworks
×
M6 Southbound - Roadworks
×
M6 Southbound - Roadworks
×
M6 Southbound - Roadworks
×
M6 Northbound - Roadworks
×
M6 Northbound - Roadworks
×
M6 Southbound - Roadworks
×
M6 Northbound - Roadworks
×
M6 Southbound - Roadworks
×
M6 Northbound - Roadworks
×
M6 Northbound - Roadworks
×
M6 Northbound - Roadworks
×
M6 Northbound - Roadworks
×
M6 Southbound - Roadworks
×
M6 Southbound - Roadworks
×
M6 Northbound - Roadworks
×
M6 Southbound - Roadworks
×
M6 Northbound - Roadworks
×
M6 Northbound - Roadworks
×
M6 Southbound - Roadworks
×
M6 Northbound - Roadworks
×
M6 Southbound - Roadworks
×
M6 Southbound - Roadworks
×
M6 Northbound - Roadworks
×
M6 Northbound - Roadworks
×
M6 Northbound - Roadworks
×
M6 Northbound - Roadworks
×
M6 Southbound - Roadworks
×
M6 Northbound - Roadworks
×
M6 Southbound - Roadworks
×
M6 Southbound - Roadworks
×
M6 Southbound - Roadworks
×
M6 Southbound - Roadworks
×
M6 Southbound - Roadworks
×
M6 Northbound - Bridge or Barrier Repairs
×
M6 Northbound - Roadworks
×
M6 Northbound - Roadworks
×
M6 Southbound - Roadworks
×
M6 Northbound - Roadworks
×
M6 Southbound - Roadworks
×
M6 Northbound - Roadworks
×
M6 Northbound - Resurfacing
×
M6 Northbound - Roadworks
×
M6 Northbound - Roadworks
×
M6 Northbound - Resurfacing
×
M6 Northbound - Roadworks
×
M6 Northbound - Roadworks
×
M6 Northbound - Roadworks
×
M6 Southbound - Roadworks
×
M6 Southbound - Roadworks
×
M6 Southbound - Resurfacing
×
M6 Northbound - Roadworks
×
M6 Northbound - Roadworks
×
M6 Southbound - Roadworks
×
M6 Southbound - Roadworks
×
M6 Overview
The M6 is the longest motorway in the whole of the UK, and notorious for its congestion. Nevertheless, it's a blessing for tens of thousands of commuters, holidaymakers and workers every day. Running from Rugby, it passes Stoke on Trent, Liverpool, Manchester, Preston, Lancaster and Carlisle, and ends at Gretna, where is joins the A74(M) towards Glasgow.
65

12
am

64

1
am

64

2
am

64

3
am

64

4
am

66

5
am

66

6
am

63

7
am

63

8
am

64

9
am

64

10
am

64

11
am

64

12
pm

64

1
pm

64

2
pm

63

3
pm

62

4
pm

63

5
pm

65

6
pm

67

7
pm

68

8
pm

66

9
pm

66

10
pm

66

11
pm
Average speeds are from the Highways Agency network journey time and traffic flow data May 2014.
As Britain's longest motorway, the M6 is a fantastic achievement, and tens of thousands of motorists rely on this route for a variety of purposes. The Preston Bypass, which forms part of the M6, was the first motorway in Britain to be built, now located around Junction 29.

However, due to the sheer popularity of the route, there are pockets of congestion that can be predicted in advance. The stretch of M6 that runs to the north of Birmingham is one such traffic hotspot. If you can, avoid the congestion through the West Midlands by making use of the purpose-built toll motorway - the M6 Toll, which runs from Junction 4 at the NEC north to Wolverhampton, a route of 27 miles. Using the toll can save time - and stress. Before the M6 Toll was built the Birmingham section of the M6 carried an astonishing 180,000 vehicles per day, more than twice its intended capacity. Traffic flow has since decreased by a third.

The motorway is also notorious for its extended roadworks - especially north of Birmingham through to Stafford.
---

Please don't drink and drive - it's not worth the risk. Alcohol seriously affects your ability to drive safely. You can end up in court, jailed, and fined up to £5,000 plus a 12-month ban from driving and a criminal record.
M6

696 accidents

M1

665

M25

656

M4

534

M5

248

Except where otherwise noted, content and photographs on this site are licensed under a Creative Commons Attribution 3.0 License.
Owned, operated and copyright CliqTo Ltd 2014. Registered company number 7575287.
Close this box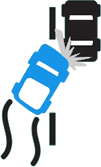 Traffic alerts direct to your inbox
Get customised traffic updates direct to your email inbox with our brand new free service.
Avoid the traffic jams and accidents by being informed by email immediately an incident has been reported:

Set up custom alerts