Traffic Cornwall
TODAY
69°
Light Rain Showers
WIND: 21kts, SW
TUE
65°
Light Rain Showers
WIND: 25kts, WSW
WED
66°
Light Rain Showers
WIND: 25kts, S
THU
65°
Sunny Intervals
WIND: 13kts, SW
FRI
73°
Sunny
WIND: 10kts, SSW
Current traffic in Cornwall

There are no current incidents in this location.
Let's Get Social
---
Live Email Alerts
Get live email alerts whenever there is a traffic incident or roadworks on the roads you travel that may cause congestion or jams.
Sign up for free alerts
---
LEGAL NOTICE
Please remember that it is against the law to use your mobile phone without a hands-free kit whilst driving on the road. If you're caught by the police driving whilst using a hand-held phone you'll get an automatic fixed penalty notice, 3 points on your licence and a fine of £100. A court could also disqualify you from driving.
High tides are expected this evening, with possible strong winds from the South Easterly direction, which may cause some spray overtopping onto roads and low lying areas.
1.23m from Paignton.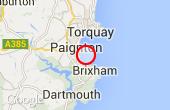 High spring tides combined with blustery conditions may lead to localised flooding over high tide on Sunday evening.
At Ilfracombe the predicted astronomical tide level is 5.06mAOD.
The forecast surge height is 0.14m, wind direction is SSE and wind strength is Force 5.
The times of high tide will vary along the coast.
Conditions will usually apply 2-4 hours either side of high tide.
8.8m from Wadebridge.
1.87m from Wadebridge.
3.67m from Newquay.
7.11m from Redruth.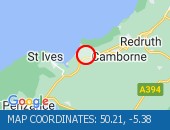 High tide levels are expected on Sunday evening and Monday evening.
Some flooding of minor roads and low lying areas is possible.
2.63m from Barnstaple.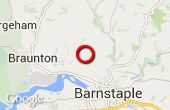 Except where otherwise noted, content and photographs on this site are licensed under a Creative Commons Attribution 3.0 License.
Owned, operated and copyright CliqTo Ltd 2015. Registered company number 7575287.