Live traffic news for the M60
M60 Traffic
M60 Northbound - Object on the Road
×
M60 Westbound - Bridge or Barrier Repairs
×
M60 Northbound - Roadworks
×
M60 Eastbound - Roadworks
×
M60 Southbound - Roadworks
×
M60 Eastbound - Roadworks
×
M60 Northbound - Roadworks
×
M60 Northbound - Roadworks
×
M60 Northbound - Roadworks
×
M60 Eastbound - Roadworks
×
M60 Eastbound - Roadworks
×
M60 Westbound - Roadworks
×
M60 Westbound - Roadworks
×
M60 Eastbound - Roadworks
×
M60 Eastbound - Roadworks
×
M60 Eastbound - Roadworks
×
M60 Northbound - Roadworks
×
M60 Eastbound - Roadworks
×
M60 Eastbound - Roadworks
×
M60 Eastbound - Roadworks
×
M60 Eastbound - Roadworks
×
M60 Westbound - Roadworks
×
M60 Northbound - Roadworks
×
M60 Overview
The Manchester Outer Ring Road, an orbital motorway, numbered clockwise from Stockport.
64

12
am

63

1
am

63

2
am

63

3
am

64

4
am

65

5
am

64

6
am

57

7
am

57

8
am

61

9
am

62

10
am

61

11
am

61

12
pm

61

1
pm

61

2
pm

61

3
pm

57

4
pm

56

5
pm

62

6
pm

66

7
pm

66

8
pm

65

9
pm

64

10
pm

64

11
pm
Average speeds are from the Highways Agency network journey time and traffic flow data May 2014.
The M60 motorway is 31.6 miles long and it circles the greater Manchester. Also known as the Manchester Ring motorway, the road goes through all the metropolitan boroughs. The two that are exempted include Bolton and Wigan. It is paramount to note that this outer ring road is part of the wider Euro routes E22 and E20, and was renamed in the year 2000. The following is a genealogy of the motorway, the sections/ sector followed by the original road; J1-J12 is the M63 motorway, J12-J18 IS M62, J18-J19 is M66, while J19-J23 has always been part of M60. The remaining include J23-J25 is M66 motorway while J25-J1 is M63. Although the M60 motorway was originally a new venture to create a new motorway, a change in the original policy realized change of plan. The new policies outlined necessitated consolidation of some sections of the M62 and M63. In addition, some sections of M66 were extended to fit in the plans laid down. Additional lanes of the motorway were created in 2006, specifically at Junction 5 and 6 of the road. In total there were eight lanes, four on each side. Some of the other junction underwent remodeling , however, for Junction 6 and 8, lanes were added and a two-lane distributer road was included. There are several statutory instruments that form an essential part of legalities involved in road constructions In United Kingdom. They play a central role in ensuring proper planning and execution of road projects. Some of those that were vital during the building of M60 motorway include: Statutory instrument number 1708 issued in 1988; statutory instrument number 1728 issued the year 1988, and statutory instrument issued in 2002 number 2403. Note that these instruments always detail the routes prior to commencing the projects. This is the only real orbital motorway in UK, especially when all road-features are put into consideration. The M60 motorway reduces and distributes traffic in better way.
---

Please don't drink and drive - it's not worth the risk. Alcohol seriously affects your ability to drive safely. You can end up in court, jailed, and fined up to £5,000 plus a 12-month ban from driving and a criminal record.
M6

696 accidents

M1

665

M25

656

M4

534

M5

248

Except where otherwise noted, content and photographs on this site are licensed under a Creative Commons Attribution 3.0 License.
Owned, operated and copyright CliqTo Ltd 2014. Registered company number 7575287.
Close this box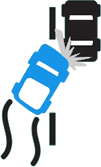 Traffic alerts direct to your inbox
Get customised traffic updates direct to your email inbox with our brand new free service.
Avoid the traffic jams and accidents by being informed by email immediately an incident has been reported:

Set up custom alerts