Traffic Carmarthenshire
Current traffic in Carmarthenshire

There are no current incidents in this location.
Carmarthenshire Roadworks
Let's Get Social
---
Live Email Traffic Alerts
Get live email alerts whenever there is a traffic incident or roadworks on the roads you travel that may cause congestion or jams.
Sign up for free alerts
---
LEGAL NOTICE
Please remember that it is against the law to use your mobile phone without a hands-free kit whilst driving. If you're caught by the police driving whilst using a hand-held phone you'll get an automatic fixed penalty notice, 6 points on your licence and a fine of £200. A court could also disqualify you from driving.
Strong winds are forecast to continue today and into Wednesday affecting north and west facing coasts.
The wind will strengthen Wednesday evening with gusts potentially reaching 70 mph by around 21:00.
These strong winds will continue through the night until easing slightly around 06:00 on Thursday morning.
There is a risk of large waves and sea spray overtopping seawalls at high tide.
The risk is likely to remain during Thursday and possible into Friday 19 January.The time and date of the first forecast high water is 18:30 tonight, 16/01/2018.
The forecast tide level is 5.17 m AOD.
The forecast wind strength and direction is Force 7 West North West.
The time and date of the second forecast high water is 07:00 on 17/01/2018.
The forecast tide level is 5.04 m AOD.
The forecast wind strength and direction is Force 7 West North West.
Please note all tide times are in local time and are using the 24 hour clock and refer to the high water time at Hinkley Point.
5.71m from Minehead.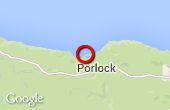 Due to restrictions at the tidal outfall, river levels in the River Ritec in the Salterns area of Tenby are likely to remain high for a number of days.
You may notice river levels rising as each high tide arrives.
The combination of ground conditions and existing river levels gives a high risk of flooding of low-lying land during the next 24 hours, in connection with the periods of high tides.
4.72m from Pembroke Dock.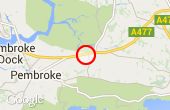 Except where otherwise noted, content and photographs on this site are licensed under a Creative Commons Attribution 3.0 License.
Owned, operated and copyright CliqTo Ltd 2018. Registered company number 7575287.